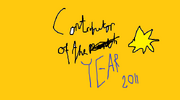 This is it. The Contributor of the Year award. Every month, I, Dynovan, choose a Wikia contributor who has been the best user over the course of a month. But now, I need to crown someone 2011's Contributor of the Year. And I can tell you, it's been hard choosing. Since this wiki was founded earlier this year, many users have arrived, and each have added something new to the wiki. So this is what I did - I looked at past Contributors of the Month, I looked at user's histories, and I sat and thought. It's been hard, but I've come to a decision. Not one, but two users deserve this award, and they are... TARDIS2010 and Speedysnitch! Here's how they got this award.
TARDIS2010 ( T - Man) - Jackie Wiki wasn't always the bustling community you know today. In the early days, there was just me and a couple of pages. I needed some help, so I asked my good friend TARDIS2010 to come and help me. And he did just that. I may have founded the wiki, but T - Man laid some of the key foundations. He kick started the forum, he took the job of updating the news page, he updated TV listings and World of Screens, and wrote some brilliant blogs. If it wasn't for T - Man, Jackie Wiki just wouldn't be the same. He truly deserves this award. Well done T - Man!
Say hello to T - Man.
Speedysnitch (Speedy) - T - Man may have been the first user apart from me, but Speedy also deserves this award. Even after T - Man had joined, the wiki was barren. But then Speedy joined, and the wiki got even better. Speedy redesigned the logo, added trivia quizzes, created blogs, and updated 'More of This'. If it wasn't for Speedy, the wiki would still be barren, because when Speedy joined, many more users joined too. We owe a lot to Speedy. Well done Speedy!
Say hello to Speedy.
These users truly deserve this award. So, three cheers for T - Man and Speedy!