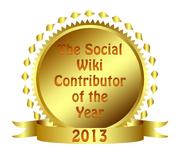 This year the wiki has continued to grow. Unfortunately many well known users have left the wiki, so the job of editing pages has been left to a small group of users. One of these users is this year's winner, TARDIS2010, who has won his third straight COTY!
TARDIS2010 (T - Man)
This year T - Man has continued to help the wiki to grow, which he has done since the wiki was founded in 2011. This year he has helped us to change our name from 'Jackie Wiki' to the more suitable 'The Social Wiki'. He has created a useful forum on the wiki, has added brand new topics to the wiki, such as MotoGP, and has continued to consistently edit pages extremely well. T - Man truly deserves this award. Well done T - Man!
Talk to T - Man.