Welcome to the page all about Formula 1. Here you can find the latest news and discuss recent events with others.
Official Website: http://www.formula1.com/default.html
Latest News
Edit
Lotus' Romain Grosjean is fastest but the second pre-season test is overshadowed by Fernando Alonso's accident.
McLaren driver Fernando Alonso avoids injury after crashing in pre-season F1 testing in Barcelona.
McLaren-Honda endure yet another setback on the penultimate day of the second pre-season test in Barcelona.
Red Bull's Daniel Ricciardo narrowly outpaced Ferrari's Kimi Raikkonen and Williams' Felipe Massa on the second day of the second pre-season test.
Ferrari say their impressive form in pre-season testing has not changed their low-key expectations for the new Formula 1 season.
Williams test driver Susie Wolff and Sauber's Felipe Nasr collided at the second pre-season test in Barcelona as Lewis Hamilton stood down with illness.
The former Marussia team have taken a step towards returning to Formula 1 by finalising an agreement to come out of administration.
Current 2015 Standings
Edit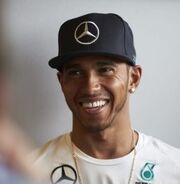 Drivers' (Top 5)Edit
Constructors' (Top 5)Edit