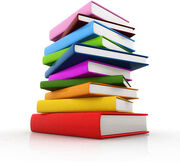 This is page where you can tell the wiki what you read! Feel free to add anything that you like to read.
The Chronicles of Ancient Darkness
Voices from the Titanic
Many football books
V for vendetta
MagazinesEdit
New Series Doctor Who Novels
Classic Series Doctor Who Target Novels
Harry Potter
The Lord of the Rings
Osprey: Aircraft of the Aces
Beneath Hill 60
Damon Hill: Grand Prix Year
Jenson Button: My Championship Year
The Hobbit
The Illustrated Red Baron
The Last Fighting Tommy
And other than that, I don't really read.
Blathereen
Edit
The Ramarkable Adventures of Tom Scatterhorn (Trilogy)
The Viral's series
The Tomorrow Code
Kensuke's Kingdom
The Bible.
Keep the list going!!